100 days from now I will be preparing to officially make the plunge, getting married. In celebration of this milestone I have decided that a progress post is in order.
Us:
Rachel and Guy
Cooper&Scout
Rachel and Guy
Establish 02.16.2005
Engaged 02.17.2007
Adopted Cooper on 06.21.2007
Adopted Scout on 09.22.2008
Making it official 06.13.2009
Wedding Website:
RachelAndGuy.com
The Save the Date:
Thanks Vista Print!
The Church
:
Grace Lutheran Chuch
The Reception
Venue:
Bahia Resort and Hotel
Mission Bay, San Diego
The Dress:
Link to Picture
(Just in case Guy reads)
The Garter:
Link to Picture
I only purchased the smaller one. It has since been customized.
The Chucks:
These are obviously screen shots of my shoes. I designed them on Converse.com and had them shipped to my friends house because we were having trouble with our mail. If you click on the pictures it will bring up a larger image so you can see the images better. The heel stripe reads 13june2009.
The Rings
: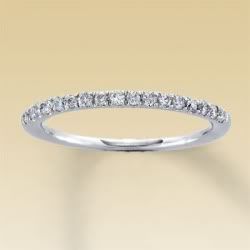 1/2 carat round cut diamonds in a prong settings
14K white gold
The Fake Rings (For Europe)
:
His&Hers
The Food
:
Appetizers:
Blackened Shrimp with Garlic cream cheese on Asiago Crostini
Scallop and Tiger Shrimp Brochette
Crab Cakes with Lime and Ginger
Artichoke Hearts with Boursin Cheese and Toasted Pecans
Baby Spinach Salad with Sun Dried Cranberries and Almonds in a Raspberry Vinaigrette
Baked Breast of Chicken with Pomegranate Glaze
Filet Mignon with Cabernet Sauce
Whipped Garlic Mashed Potatoes
Steamed Vegetables
White Chocolate Vanilla Ice Cream Truffle with Raspberry Sauce
The Cake:
Our cake is still up in the air, sort of. Its ordered but up until 10 days before we can change it however we want. Right now its a three tier white cake with whipped cream frosting. We were planning on adorning it with flowers and a ribbon at the base of each tier but while browsing the internet we found a cake that we both think is amazing. We are going to go to our bakery, a lovely local place called
Flour Power
and talk to them about how much more it would cost to do our dream cake.
The flavors will remain the same.
The First Tier:

pudding chiffon-yellow cake-with peach slices drifting throughout & peach mousse.

The Middle Tier:

white cake infused with coconut and tied together with a coconut cream.

The Bottom Tier:

The Works- white cake with our light Bavarian cream, one thin layer of raspberry & one thin layer of lemon jam.
Guy's grooms cake

(which will most likely be frozen and kept for the first anniversary) is

Chocolate Peanut Butter:

Chocolate peanut butter cake with peanut butter folded into the mousse, and a layer of fudge to top it off.
The Flowers:
We are using all white flowers so imagine these in white. Half the centerpieces will be tulips. The other half will be something like this except only the calla lilies which will be bowed out more, much like the tulips.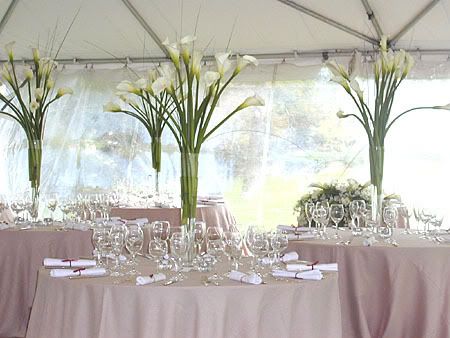 The Invitations:
Ours are not in these colors. The Pocket is teal, the insert is white and the ribbon is royal blue. Ordered from AlaunByDesign.com . We just finalized the proofs today and hope to get them in about 3 weeks.
The Limo:
Chrysler 300 Stretch Limo
Seats up to 10.
Cake Cutting Set:
Vera Wang "With Love"
My mother is getting them engraved as a gift for us.
Other Stuff that has been completed:
The DJ
The Month of Coordinator
The Officiant
Passports
The Photographer
Rehearsal Dinner
Website invitation inserts
Hotel for Rome
Ring Bowl
Chair Covers
Unity Candle
Linens
Library Cards
Library Pockets
Get rings sized
Favor Tags
Pre-marriage Couseling
Perfume
Send Invitations
Registries
Champagne Flutes

Make Boarding Appointment for Dogs

Marriage license
Menus
What's Left to Do:
Book Hair and Makeup
Guestbook
Escort Cards
Place Cards
Table Names
Table Signs

Signs
-candy bar
-guestbook
Candy Buffet Stuff

(IP)

OOT Baskets
Gifts

(IP)



Guy's Clothes

(IP)

Figure out the ceremony
Music for the reception
Share your photo cards


Kids packets

(IP)



Programs
Bouquet charms

(IP)



Undergarments
Dress fittings

(IP)





Card Box

(IP)

Letters for Candy Buffet

(IP)